Toolbox Items Every Landlord Needs for Basic Maintenance and Repairs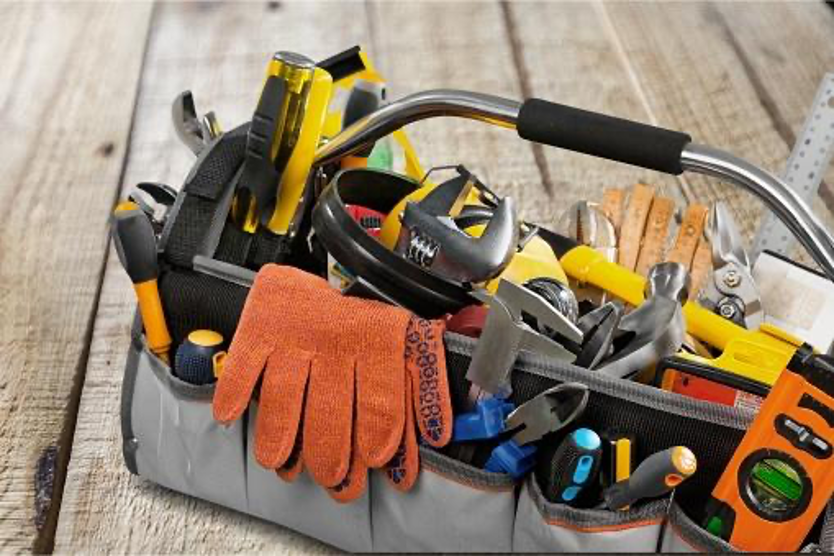 When you own a rental property, dealing with damage is an inevitable part of the job. You're often the first point of contact when something goes wrong, whether it's due to wear and tear or the tenant's fault. Although choosing quality building material can reduce the need for property maintenance, sometimes you need to roll up your sleeves and do it yourself.
You'll find it easier to complete simple repair tasks if you already have the necessary tools. Which brings up the question, what do I need in my toolbox? Stick around to find out the toolbox items every landlord needs for basic maintenance and repairs.
Tools for Basic Maintenance
Electrical
Pliers: Pliers are handy for cutting, holding, and twisting wires and minor metals. It would help if you started your toolbox with a few of these.
Screwdriver: Add a couple of round and flat head screwdrivers to help you tighten and loosen bolts.
Multimeter: You can use a multimeter to measure voltage, current, and other relevant electrical readings.
Wirepuller: Wirepullers are efficient at pulling wires without risk, especially the smaller ones.
Plumbing
Plunger: A plunger is one of the most common plumbing tools in the home. It's handy for unclogging toilets, sinks, and showers. However, experts recommend having at least two-separate ones for the kitchen and bathroom.
Pipe Wrench: If you want a solid grip on your pipes, you'll need a wrench. An adjustable one is ideal as you can use it on different fixtures.
Faucet Packing/O-rings: Replacing a pipe or tap usually requires rubber O-rings or faucet packing to keep everything in place and prevent leaks.
Tube Cutter: You never know when you'll need to cut a pipe, so it's best to have a tube cutter handy for more precision.
You should note that repairs related to electricity and plumbing are sensitive, so it's best to leave it to the best hands. A knowledgeable property management company can help with maintenance.
Painting
Brushes: Brushes are an essential tool for any paint job. How else do you intend to make the colors stick to the walls? An angled 2.5-inch brush should be perfect for any DIY project.
Rollers: You will need a roller and an extension pole for hard-to-reach places. Besides, they're also faster than using a single brush.
Ladder: Although a ladder might not fit in your toolbox, it's a must-have for any paint job. A sturdy six-foot aluminum ladder should do.
Pre-Mixed Spackling: There might be some nail holes or gaps to cover up in your walls. Some pre-mixed spackling can help you achieve a smoother look. Besides, it's easier for newbies to use.
General Repair
Tape Measure: A tape measure is a universal tool everyone needs. Measurements are essential for accuracy, without which can lower the quality of your work.
Hammer: You can never go wrong with a hammer. It's handy for bending metals, pulling nails, assembling furniture, and light carpentry work.
Flashlight: No toolbox is complete without a flashlight. This tool is handy for seeing around corners and hard-to-reach places. Besides, if there's a power outage, you'll always know where to find it.
Utility Knife: Using your kitchen knives to cut pipes and wires is not hygienic. Instead, get a utility knife that can offer you more ease and precision.
Tapes: A collection of duct, maxing, and black tapes from the hardware store should complete your set. These can come in handy to create lines, join items, or keep things in place.
When to DIY and Call a Professional
When to DIY
You can give the problem a shot if you have a relevant background in electrical or plumbing work. Also, if you're willing to learn new tricks, you can try to complete the task yourself.
When you have the tools and materials
Sometimes you might require a specific tool to fix a problem. For instance, you would need maxing tape to create clear divisions in painting. Since it's an item with multiple uses, you can add it to your toolbox. However, it wouldn't be practical for you to buy an industrial paint sprayer.
When you want to save money
DIY projects can save you money because you only have to cover the cost of materials. On the other hand, contractors would also include a service fee for their efforts.
When to Call a Professional
Some projects require special licensing or training to complete, such as changing a circuit breaker. Thus, you should skip the DIY if you don't have the proper permit.
When the damage is significant
Sometimes it's better to get out of the way and let the professionals handle it, especially when there's significant damage to the property.
When you worry about safety
Besides doing a better job, professionals also ensure you and your tenants' safety. You can avoid incurring injury or further damage by outsourcing certain tasks.
Conclusion
If you want to make your DIY or outsourced repair projects easier, be sure to have the right items. Our list of toolbox items every landlord needs for basic maintenance and repairs should meet most of your demands. However, knowing when you have the skills to complete a task and when you need professional help is crucial. If you're concerned about finding the best contractors around your area, you can contact a local property management company. These experts can help you identify the best service workers and supervise the restoration of your property.